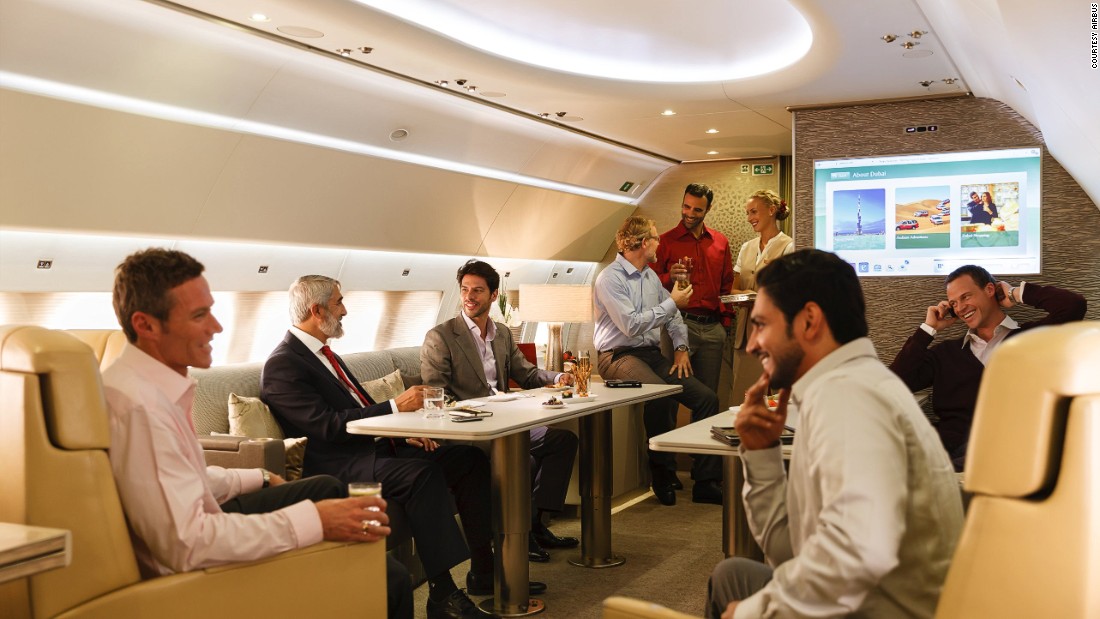 A very special market
To cater to this market, the major aircraft manufacturers have developed corporate versions of their best-selling airliners.
Boeing has the Boeing Business Jet (BBJ) family while its European rival has the Airbus Corporate Jet (ACJ).
Their product ranges includes specially configured variants of the popular Airbus A320 and Boeing 737, but the most deep-pocketed buyers can also order larger models, such as the Boeing 747 and Airbus A340 or the newest Boeing 787 and Airbus A350.
These firms have created specific departments to serve this very special clientele.
"It makes sense for companies like Airbus and Boeing to have a separate organization in order to cater to VIP clients.
"This market is all about emotion. It is not unusual for a client to call you in the middle of the night to discuss this or that detail of his aircraft decor," says Richard Gaona, an industry veteran who, after many years at the helm of Airbus Corporate Jets, is now CEO of Comlux.
There are currently some 300 converted VIP-configured airliners flying around the globe.
Some of them belong to governments, who use them to fly heads of state and their entourages.
Air Force One is probably the most famous, but other countries have their own presidential aircraft too.
Large corporations and ultra-rich individuals are also a market for this topflight segment of private aviation.
"Some of the people that fly in these large corporate jets may own already a smaller aircraft for their solo business trips, but may buy or rent a larger aircraft for when they travel with the family or a larger entourage," adds Gaona.
Performance at all costs
Although they share the airframe with commercial airliners, the market for very large corporate jets is driven by totally different considerations.
Whereas an airline would look first of all at the economics of an aircraft and its operational efficiency, private clients tend to be more interested in raw performance.
The A330 that's being outfitted by Comlux, for example, is able to carry up to 60 people in total comfort, and stay in the air for over 17 hours without refueling.
"For our clients it is range and capacity that matter," says David Velupillai, head of marketing for Airbus Corporate Jets. "Heads of state, for example, value the capacity to travel to distant countries without being forced to stop over along the way."
Palatial interiors
While their technical performance is impressive, for the majority of people the most eye-catching element of any VIP aircraft is the cabin interior.
It's not unusual for the buyer of a corporate aircraft to spend as much, if not more, on the personalization of its interiors as on the aircraft itself.
Aircraft manufacturers offer some off-the-shelf options with a standard design — but once you've decided to splash $87 million on a jet (that's the catalog price of an Airbus ACJ319), you may as well go all the way and customize the cabin to match your own personal style.
Some aircraft owners bring their favorite designers on board, but ultimately the work will have to be completed by a certified outfitter.
But that's where the similarities with home interior design end.
Designing and outfitting custom-made cabin interiors is sophisticated work, with only a handful of companies worldwide possessing the required expertise.
The final result has to not only be pleasant to the eye and in line with the wishes of often extremely demanding clients, but also compliant with safety regulations and the aircraft's structural and operational requirements.
The introduction of new-generation aircraft in VIP roles, such as the Boeing 787 and the Airbus A350, has brought new levels of complexity to the industry.
These aircraft make extensive use of composites, which have a number of advantages including being lighter than traditional metal structures, but it forces the outfitters to develop new procedures to deal with the unique properties of these innovative materials.
"The new composite aircraft present a steep learning curve for designers, engineers, manufacturers and the turn key managers," explains a source at
Kestrel Aviation Management
, the American firm that customized the first Boeing 787 VIP. "In some ways it was like going from a classic car to a Tesla but exponentially, of course."